Hydro excavation or sometimes referred to as daylighting or "pot holing" combines two very powerful forces to expose and remove dirt and debris.  It brings together high-pressurized water to disrupt debris and then sucks away the fallout with an industrial strength vacuum. The net result is an area devoid of all unwanted debris in a relatively brief period of time.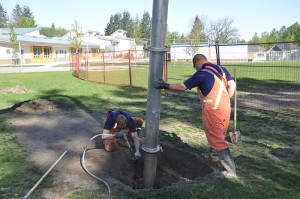 If you're a building, plumbing or landscaping contractor, you may need hydro excavation for landscaping purposes or exposingsensitive utilities. In either scenario, hydro excavation is an especially beneficial method because it runs little risk of leaving any real damage behind. The process, unlike using a backhoe, is non-mechanic and also non-destructive.
Hydro excavation and flushing services are especially helpful for construction, as they save so much time, and money, compared with conventional forms of mechanical digging. Hydro excavation is the perfect solution for trenching and remote digging where fibre optic cable might need to be laid.
Find out why more contractors, and property managers rely on the experts at Edenflo Pump Truck Services.  The communities that are served by EdenFlo include Vancouver, Abbotsford, Aldergrove, Surrey, Langley, Burnaby, New Westminster, Coquitlam, Maple Ridge, Port Coquitlam, Delta, White Rock, Anmore and even Lions Bay! Call us at 604 575 1414 or fill out our online request  and we'll be happy to assist you.