If your home has a septic tank, rest assured that you are using a time proven, environmentally responsible method for getting rid of waste products. Septic tanks are generally very reliable, self-sufficient methods of waste disposal. They don't require much maintenance, but what little service they do need is imperative in avoiding big problems in the form of sewage backups and potential overflows into your home.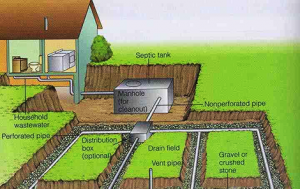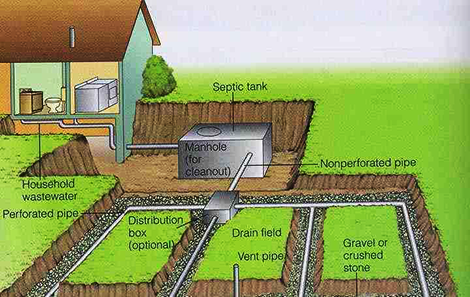 Septic tanks are the great separation engine in your waste disposal system. When waste enters the tank, solids float to the top, where they form a layer of decomposing material called "scum". Most of the scum turns into liquid containing mostly water and some nutrients that makes its way out of the tank and into the ground via your leaching field.
Any solids that don't decompose sink to the bottom of the tank and become "sludge". Because the biological action that takes place in the tank is quite efficient, sludge builds up slowly. When the level does, inevitably, become too high, it can interfere with the layer of water moving out into the leach field, and the scum at the top of the tank will build up too quickly and can actually back up into the "in" and "out" pipes of the tank. This can cause a backup into your home.
The answer? Preventive maintenance. You need to periodically pump out the tank to remove the sludge buildup at the bottom. How often you need to do this depends on a number of factors, including size of the tank, number of people in your home, and the size and makeup of your leach field.
To find out about how often you need to service your septic tank, contact the professionals at Edenflo.  Edenflo serves all of the lower mainland with the best septic tank service including Abbotsford, Aldergrove, Delta, Surrey, Langley, White Rock, Richmond and as far away as Lions Bay.
We can be reached at 604-575-1414 or fill out our online request for service.