Let's think about the real impact of taking a few parking stalls out of circulation due to a drain back-up in your underground garage.
Revenue:  The lost revenue associated with an inaccessible parking stall will add up quickly.  Depending on the lower mainland location, this could be as high as $75 / day
Customer Inconvenience:  If you have assigned parking, your customer that is effected by the inaccessible stall will be looking to you for some compensation or perhaps even look for new arrangements
Reputation:  With a quick post to a smart phone, your customer can quickly steer other potential parkers away from your underground garage.  These posts live on the Internet forever…
EdenFlo offers the best drain cleaning solution for underground garages in the lower mainland.  We have just added to our "Low Boy" fleet to ensure that when you call, we can have the right equipment to your garage to address the problem.  The Low Boy has a very short profile which means it can access your drain or catch basin in your low ceiling underground garage better than traditional vacuum trucks.  More efficient means less time on site – the job is done faster and better.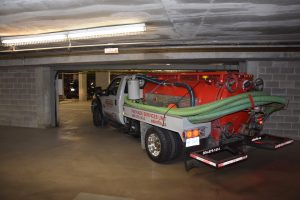 Whether your low clearance challenge is in Vancouver, Aldergrove, Surrey, Langley, Buranby, New Westminster, Delta or White rock, EdenFlo provides scheduled maintenance service for your parkade drainage needs. Don't wait until you have a back up that leads to customer issues and lost revenue.   Now is the time to book your drain cleaning service.