You never know you have a problem until it becomes a bigger problem.  This is always the case when it comes to cleaning drains and catch basins in your underground garage.  Debris may be lurking in your drains but not completely stop the flow of water.  One shift in the debris could be the difference between a catch basin back up resulting in the closure of your garage.
Think about the consequences of a closed garage.  Lost parking revenue and customer inconvenience is only part of the problem.   Water will find its way into minute cracks in the surface and walls, which could lead to costly repairs.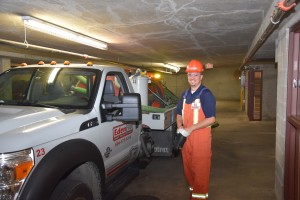 Regular scheduled maintenance on your below ground parking garage will prevent a disaster. EdenFlo Vacuum Truck Service offers a top fleet of "Low Boy" vacuum trucks that are specifically designed to access underground space with low ceiling clearance.
Whether your low clearance challenge is in Vancouver, Aldergrove, Surrey, Langley, Buranby, New Westminster, Delta or White rock, EdenFlo provides scheduled maintenance service for your parking garage drainage needs.  Regular cleaning and inspection gives you the peace of mind to know that the lower mainland's best vacuum truck service is keeping your parking area high and dry.