As the weather gets better and the skies clear, it would be easy to forget about the catch basin in your parking garage in the lower mainland.  Chances are there is debris and waste that are partially clogging your drain right now.  Smaller rainfall will hide the fact that there may be a drainage problem that is just waiting to manifest itself into a big clog that can could cause you have to shut down your garage.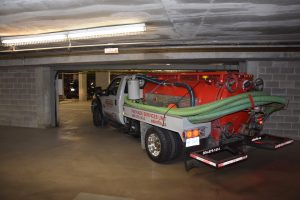 EdenFlo offers the best low clearance parking garage catch basin cleaning in the lower mainland.  Their extensive fleet of "Low Boy" vacuum trucks gets into the tightest parking garages to access your catch basin and drains in the lowest levels of your parkade.
Whether your parking garage drain challenge is in Vancouver, Aldergrove, Surrey, Langley, Buranby, New Westminster, Delta or White rock, EdenFlo can provide  a routine maintenance inspection before you have a full blown drainage emergency. Get it done so that you can ensure that you and your parking patrons can enjoy the best weather of the season.   Give us a call at 604 575 1414 or email us at service@edenflo.ca to book a complimentary consultation.