The basics of cleaning a catch basin is to remove the debris  that may be blocking the flow of water. Even though it sounds simple, this is not something you should trust yourself to do on your own. Most of the catch basins in the lower mainland are very deep. Trying to scoop out the debris will not only challenge your senses (usually the debris will have a foul smell), but it can also result in a fall or a strain. If you don't do this for a living like the pros at EdenFlo, you may be in for more than you bargained. EdenFlo has the right tools for the job, and they know the best practices to ensure that commercial drain flows are maximized.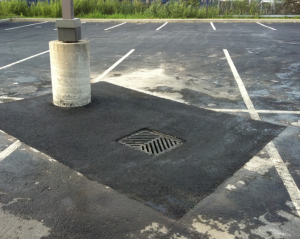 As well, EdenFlo will do an inspection as they are servicing your catch basin to ensure the infrastructure is in good shape.
Rather than try to do it yourself, and then finding out that you will still need to make a call to EdenFlo to deal with a clog, get it done right the first time and put your mind at rest.
Now is the time to get your catch basins inspected and serviced. Edenflo offers the best service in Vancouver, Burnaby, Coquitlam, Port Coquitlam, Maple Ridge, Abbotsford, Aldergrove, Delta, Surrey, Langley, White Rock, Richmond and Lions Bay. Call the experts at 604 575 1414 or fill out our online request for your catch basin service