When it rains, or there's a sudden snow melt (rare here in the lower mainland, but possible), it's essential that the infrastructure in an urban or suburban area is designed so that there's somewhere for the water to go. Otherwise, it ends up pooling in basements and around building foundations, where it can cause costly damage and lead to structural problems, mould growth, and other unpleasant conditions.
Most areas use storm drains (intakes that are connected to municipal storm sewers) and catch basins ("holding areas" for water that can fill when there's a lot of flow, and empty slowly later) for runoff management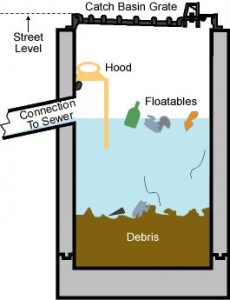 It's easy to forget about storm water management systems when it's not raining, or when they're working properly. The problem is that we don't notice that there's a problem until it's too late – when the water is advancing on our homes and businesses, or filling up our basements.
You need to take stock of your storm water management systems when it's not raining. Edenflo specializes in pump truck services on the lower mainland, and can help you keep your storm drains and catch basins free of debris, and your drains flowing. We operate British Columbia's premiere pump-truck service, with high-pressure water jets to dislodge clogs and vacuum pumping to take them (and whatever else) away for environmentally responsible disposal. We even have a special "lowboy" unit that fits into lower spaces, like underground parking garages.
Edenflo provides emergency response and preventive maintenance services to both residential and commercial customers. If you've got storm sewers or catch basins on your property call us and we'll offer advice and service that will keep you out of trouble when the skies start falling.
Have your Catch Basin cleaned and inspected by the experts at EdenFlo Vacuum Pump service.  Edenflo offers the best service in Vancouver, Burnaby, Coquitlam, Port Coquitlam, Maple Ridge, Abbotsford, Aldergrove, Delta, Surrey, Langley, White Rock, Richmond and Lions Bay. Call the experts at 604 575 1414 or fill out our online request  and we'll be happy to assist you.