Our extensive fleet of vacuum pump trucks means that we can offer you the best service based on your needs. In low clearance areas such as underground parkades, we have the biggest fleet of "Low Boy"  vacuum trucks on the lower mainland. These specially designed trucks can access low ceiling areas – putting the equipment right at the drain for cleaning. If your catch basin is outdoors, we have the best equipment for that cleaning as well.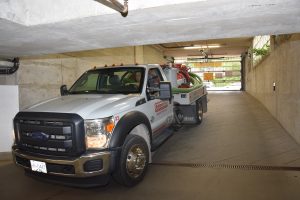 Wherever your catch basin is, the proper equipment means we spend less time at your business because we are more efficient. Your maintenance is done faster, better and at a fair price! Whether it's catch basins, lift stations, sanitary or storm sewers, Edenflo Pump Truck Service has the right equipment for the job.  
Whether your catch basin or drain cleaning is in Vancouver, Abbotsford, Aldergrove, Surrey, Langley, Burnaby, New Westminster, Coquitlam, Delta or White Rock, EdenFlo Pump Truck Service provides scheduled maintenance service for your drainage needs. Call us today at 604 575 1414 or contact us for a complimentary review of your requirements.