A catch basin is something that's very easy for a busy person to ignore. Catch basins are also known as "storm drains" and are responsible for diverting excess water run-off into proper drainage channels. When they work properly, they help prevent flooding and over-saturation of critical drain fields and homes.
How often you clean your residential catch basin depends on the purpose that it serves. In BC, many places have catch basins that are connected to sump pumps due to the area's moist climate and high rates of precipitation. For your house, the catch basin should be cleaned every five years if you are not using your sump pump often. If your sump runs frequently, the basin should be cleaned annually and the sump pump should be inspected. You can schedule this service from EdenFlo along with septic tank cleaning and maintenance.
Catch basins shouldn't be used as dumps for yard clippings or other natural waste. They can not only back up if clogged, but over time, the walls of the basins get caked with debris and their ability to drain run-off is reduced. If the basin is connected to a sump pump, the waste can clog and break the pump itself, which can leave your home flooded during wet weather.
Many commercial catch basins are located in basements, parkades, and parking lots. We recommend that catch basins for commercial properties be inspected and cleaned on an annual basis, preferably before the fall and winter rainy season.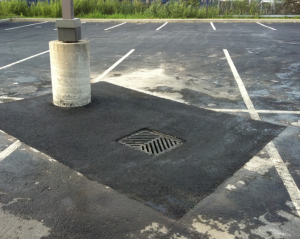 Clogged catch basins may require additional remediation. Edenflo can provide this service. The standard remedy for cleaning a clogged catch basin is called hydro excavation. Pressurized water is literally used to excavate the debris out of the basin. The debris is captured with a vacuum on a pump truck.
Preventative maintenance of catch basins is as simple as controlling what debris goes into them and having the basins cleaned on an annual basis. Doing these two things will enable you to avoid  a clogged or plugged drain.
Whether you have a need catch basin service  in  Vancouver, Aldergrove, Surrey, Langley, Burnaby, New Westminster, Delta or White Rock, contact  Edenflo Pump Truck Services at 604-575-1414 and schedule your annual catch-basin inspection and cleaning today.