It's likely that kids will be back in school all over the lower mainland come September.  This will mean that many of the parents that have been part of the "at home school experiment" since March will be returning to their offices. Your parking lots and parkades will need to be ready to accept this influx of vehicles.
Debris build up in your catch basins and drains could mean that your parking employees may have difficulty accessing parking spots. Even small rains can cause back ups and flood your lots if your catch basins are clogged. Now is the time to contact the professionals at Edenflo Pump Truck Services to service your catch basins.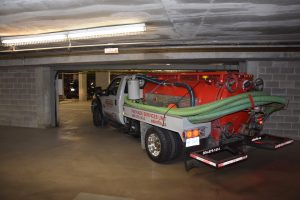 Get a jump on your parkade drainage maintenance needs by booking Edenflo in August prior to the September back to work rush.
Edenflo offers the best vacuum pump service in Vancouver, Burnaby, Coquitlam, Port Coquitlam, Maple Ridge, Abbotsford, Aldergrove, Delta, Surrey, Langley, White Rock, Richmond and Lions Bay.
We can be reached at 604-575-1414 or fill out our online request for service.
Wherever you are on the lower mainland, stay safe and stay healthy!