Video Camera line inspection is a valuable service for those in pump truck services and the plumbing industry. The CCTV video camera is a flexible rod that has a high-resolution camera at the end of it where the images are transmitted to a camera operator and recorded for viewing at a later time.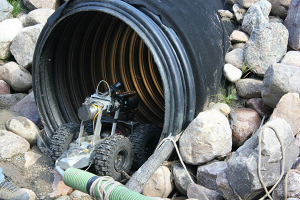 This tool allows technicians to see inside sewer lines and pipes, allowing technicians to be able to easily locate damage, cracks and other problems. Instead of digging up the sewer lines, the video camera allows the property owner to save money and mitigate future emergency maintenance by discovering the problem ahead of time.
Any foreign objects causing a blockage in your lines and pipes are also identifiable with the video camera.
If you are dealing with problems in your sewer lines and pipes, EdenFlo's video camera inspection service is a cost-effective method that will save you money.
A plumbing system with a problem will tend to lead to other problems. Regular preventive maintenance is the key to reducing overall maintenance costs, and preventing disaster in the form of sewer back up and flooding.
Wherever your Lower mainland video inspection service needs are in Vancouver, Abbotsford, Aldergrove, Surrey, Langley, Burnaby, New Westminster, Delta or White Rock, EdenFlo provides the best video CCTV inspection service on time and on budget. Call us today at 604 575 1414 or contact us for a complimentary review of your requirements.