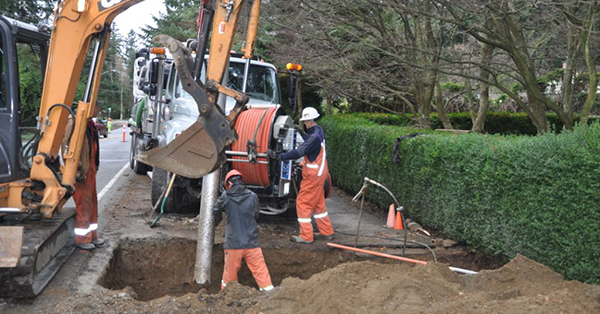 Hydro excavation is a new form of digging. More efficient and faster than mechanical removal of soil for septic tanks, sewer lines, and trenches for other utilities, it's becoming standard procedure when you need fast and accurate holes dug in a hurry.
Here's how it works:
Hydro excavation is also called "potholing" or "daylighting". The procedure involves blasting the soil to be removed with a high-pressure water jet, breaking it up and mixing it with the liquid. The resulting slurry is removed quickly by vacuum, and contained in the truck for appropriate disposal.
It's a pretty simple procedure, and for an experienced technician quite quick and easy to execute. Utility companies pioneered the hydro excavation technique because it allowed them to easily locate existing services without damaging them, and install new services quickly and safely. Unlike conventional digging, there's no danger of destroying an existing service line when digging and destroying it. Landscapers and other contractors adopted the technology because it's very targeted – it allows you to pinpoint the location of your excavation with minimal damage to adjacent property. Hydro excavation is ideal for stump removal, drilling of postholes, and installation of landscaping features like ponds and man-made streams.
Because hydro excavation is relatively "hands off", it is safer for the workers involved in your project, and it can be used year-round, using hot water when the earth is frozen in winter.
Next time you have an excavation project, forego the backhoe. Contact Edenflo pumping at 604-575-1414 and find out how hydro excavation can help you get it done, quickly and efficiently.