Daylighting is a term that is used to expose underground assets (pipes, cables, etc.) using hydrovac equipment. 
EdenFlo's Hydrovac Excavators combine pressure, water, and air to break up the earth and debris. Then the excavator vacuums up this mixture and exposes the assets to "daylight".
EdenFlo's team is the best in the business. They are extremely skilled in locating, excavating and exposing what needs to be exposed. Hydro excavation equipment allows flexibility in accessing the work site as the equipment can be positioned further away than using mechanized shovels.  Because hydro excavation gradually exposes the hidden underground assets, the chance of damage is minimized compared to using a backhoe.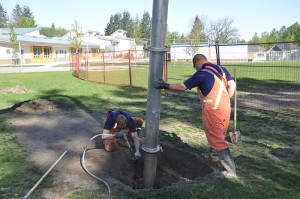 Many of our contractor customers appreciate that EdenFlo Vacuum Pump Truck Service has a variety of equipment to service your daylighting requirements.  Whether you are tasked with pipe inspection, catch basin or industrial drain cleaning, or need to find a leak, we have the tools to do the job right.
If you're looking for a hydrovac partner that you can rely on, check out EdenFlo. We offer the best service in Vancouver, Abbotsford, Aldergrove, Surrey, Langley, Burnaby, New Westminster, Coquitlam, Maple Ridge, Port Coquitlam, Delta, White Rock, Anmore and even Lions Bay! Call us at 604 575 1414 or fill out our online request  and we'll be happy to assist you.