In addition to being one of the best vacuum truck / hydro excavation companies on the lower mainland, EdenFlo also offers video line inspection as part of its service. If you're a plumbing contractor or property manager, video line inspection is a great tool to identify issues involving holes, leaks and obstructions in underground pipes and other assets.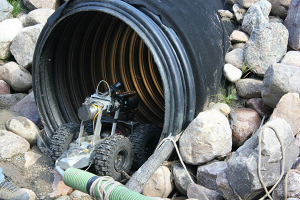 Here are 6 problems that can be solved quickly and efficiently by using Edenflo's video line inspection service.
1. Finding points of breakage, breaches, holes or corrosion.
2. Find the position of tree root blockage
3. Find grease buildup areas
4. Find where pipes are misaligned
5. Detect potential weak points or future problems
6. Inspect new work or repair work to ensure work is completed correctly and to spec.
Video inspection is just one of the many tools at Edenflo Pump Truck Service.  Whether you need catch basin cleaning, hydro excavation, storm drain cleaning or any other hydrovac service, Edenflo has the equipment and the expertise to get the job done right and on time. We service the lower mainland including 
Vancouver, Abbotsford, Aldergrove, Surrey, Langley, Burnaby, New Westminster, Coquitlam, Maple Ridge, Port Coquitlam, Delta, White Rock, Anmore and even Lions Bay! 
Call us at 604 575 1414
 or fill out our 
online request 
 and we'll be happy to assist you.