Hydro Excavation is the only non-destructive method of digging, utilizes pressurized water and a vacuum system to quickly and safely expose underground infrastructure.
EdenFlo Pump Truck services offers the best hydrovac service in the lower mainland.
The hydrovac process involves injecting pressurized water into the ground through a handheld wand. As the soil cover is liquefied, the resulting slurry is simultaneously extracted by a powerful vacuum and stored in a tank onboard the hydrovac.
Hydrovac Service from EdenFlo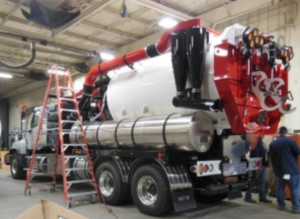 If you are trenching, or need to expose underground infrastructure or utilities, the EdenFlo hydrovac truck service offers the best value for contractors and municipalities.    Our service areas include Delta, Surrey, Langley, White Rock, Richmond and as far away as Lions Bay and Abbotsford.