Like you.  We hate surprises.  It seems that we get emergency calls more often than not from property managers with underground parking garages or parking lots with clogged catch basins.  Yes, EdenFlo appreciates the calls and we are always ready to respond to your emergency needs.
Having said that…. wouldn't it be nicer and less stressful to put your catch basin or drain cleaning for your underground garage or parking lot on a set maintenance schedule?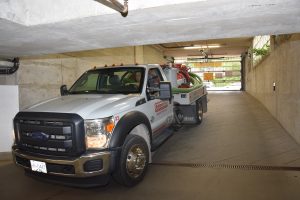 Generally speaking, our low ceiling parking garage clients that allow us to perform regularly scheduled maintenance have fewer urgent issues than those clients that choose to ignore this important mechanical component of your parkade.
Either way, the good news is that Edenflo Pump Truck Service is the expert for drain cleaning for low clearance or low ceiling areas such as below level parking garages. They have invested in the largest fleet of "Low Boy"  vacuum trucks on the lower mainland.
These specially designed trucks can access the lowest clearance areas in a garage, putting the equipment right at the drain for cleaning.
Have your Catch Basins cleaned by the experts at Edenflo Pump Truck Services.  Edenflo offers the best service in the entire Lower Mainland including; Vancouver, Abbotsford, Aldergrove, Surrey, Langley, Burnaby, New Westminster, Coquitlam, Maple Ridge, Port Coquitlam, Delta, White Rock, Anmore and even Lions Bay!
Call the experts at 604 575 1414 or fill out our online request  and we'll be happy to assist you.