Out of sight, out of mind. This is always the case when it comes to cleaning drains and catch basins in your underground garage.  Debris may be lurking in your drains but not completely stop the flow of water.  One shift in the debris could be the difference between a catch basin back up resulting in the closure of your garage.
A Property manager with a parking lot or underground garage closing will mean lost parking revenue and inconvenienced customers. Depending on the blockage, water could rise and could find its way into cracks in the floor and walls, which could lead to costly repairs.
Regular scheduled maintenance on your below ground parking garage will prevent a disaster. EdenFlo Pump Truck Service offers one of the most diverse fleets of vacuum pump trucks including "Low Boy" vacuum trucks that are specifically designed to access underground space with low ceiling clearance.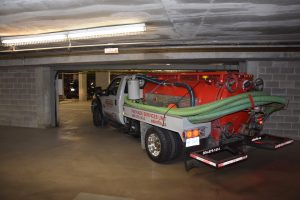 Wherever your low clearance catch basin cleaning challenge is, EdenFlo  has the equipment and experts to do the job right.  We service most of the lower mainland including Vancouver, Abbotsford, Aldergrove, Surrey, Langley, Burnaby, New Westminster, Coquitlam, Maple Ridge, Port Coquitlam, Delta, White Rock, Anmore and even Lions Bay! Call us at 604 575 1414 or fill out our online request  and we'll be happy to assist you.